2018 Auction – Blues, Brews and BBQ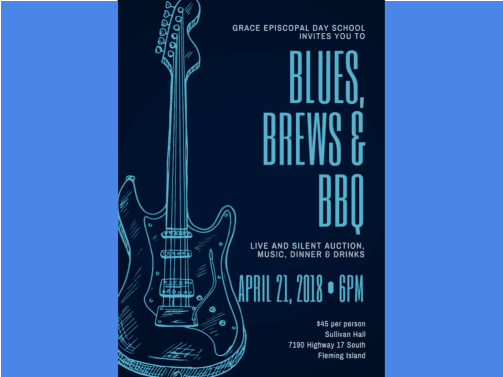 Are you ready for Grace's Annual Auction and Dinner?
Purchase your TICKETS here:
Check out the auction catalog at the same site! Lots of goodies to bid on at the auction this year. The catalog is constantly being updated.
A sign up form for TEACHER EXPERIENCES  went home last week. Teacher experiences are fun opportunities for your child to spend time with his/her teachers and classmates. The experiences are for sale before the auction. In case you can't find the sign up sheet that went home before the break, here's a link to download it:  
2018 TEACHER EXPERIENCE FORM
APPLE WATCH – You know you've always wanted one! We will be selling tickets for the chance to win your very own APPLE WATCH. The tickets will be for sale in the carpool lanes before school Wednesday and Thursday morning next week. The winner will be announced at the auction on April 21st!
1 Ticket = $5
5 Tickets = $20
Would you like to be an auction sponsor this year? It's a great opportunity to advertise your business or company. Check out more information 
HERE
 , or email Melissa at 
mvanhorn@geds.net
 .
Most importantly, we know you've asked yourself, "What am I supposed to wear to the auction?" The attire for the evening is dressy casual. Dress for a nice evening out at a Blues Club. Don't be distracted by the BBQ food selection – think more blues, and less country.