FIRST Lego League Is BACK! Plus Scholarship Opportunities!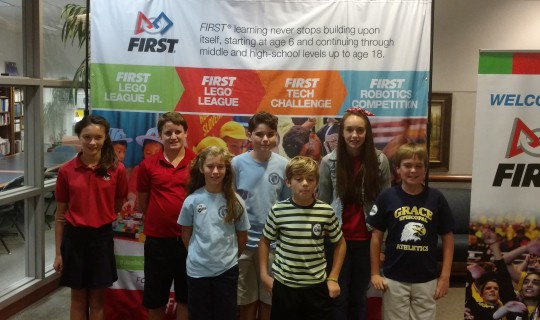 The Eagles of Grace Robotics Team placed 4th in our area last year and we are hoping to go to the state competition this year!
Students in 5th – 8th grade are eligible to participate.
Our first meeting will be on 

Tuesday, August 29th

, with a launch party at 

12:00 PM

.
Team meetings are planned for Wednesdays 3:30 PM – 5:00 PM (this is a change – if your child is playing soccer, he/she can now attend!).
Teams can plan to participate until late January or early February, depending on performance in the tournaments.
A maximum of 10 students can serve on the team.
The fee is $250 and does not include expenses associated with attending tournaments.
Enrollment will be available to the first 10 students who complete the registration form and pay the initial fee.
Payment may be paid in full at time of registration or paid in two installments of $125 in September and October.
Scholarship Opportunity For One Boy and One Girl to Participate in First Lego League! 
The Clay Women's Empowerment Council has granted a scholarship to cover the $250 fee for one girl to participate on the Grace Eagles Robotics Team.
Also, we have an anonymous donor that has come forward to sponsor one scholarship for a boy to participate!
All boys and girls interested in the scholarship need to answer the following:
          Essay question:  What do you hope to learn from participating in the First Lego League?
Submissions must be no longer than one page and are due to Robotics Coach, Susan Lindholm, by September 1, 2017.  The winning essay will be selected by a group of teachers and administrators.
The girl recipient will be invited to attend the September 7th lunch of the Clay Women's Empowerment Council.