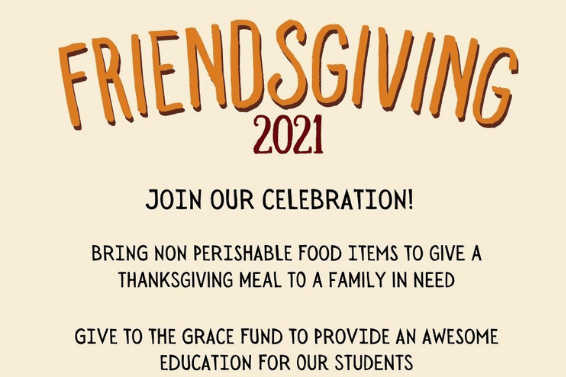 It's time for Grace's 2nd Annual Friendsgiving Celebration. November flies by at Grace and we want to make sure you are a part of the action. November is our month of giving. Parents and grandparents are encouraged to give to The Grace Fund, and students are encouraged to give non-perishable food items to the Green Cove Springs Food Pantry.
We will celebrate together at our Ingathering Chapel service on Wednesday, November 17th at 11:00 am. The children will be performing so we want to make sure it's on your calendar now. Also, after Ingathering we will host a Fried Chicken Friendsgiving meal on campus for all of our families. It's a lovely way to kick off the holiday season together, giving thanks for all that we have.
Please RSVP by clicking the button below if you plan to attend the Friend Chicken Friendsgiving Meal.