Service Learning at Grace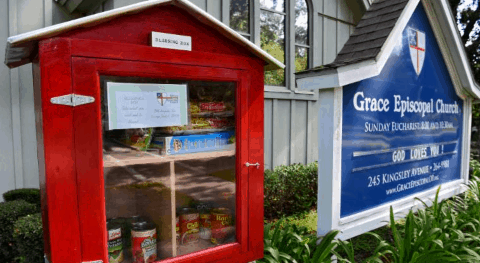 Now that school is well under way, the storms have passed, and we are settled in, it is time to focus on a year of showing our gratitude to God for our many blessings. How can we do that with our students? By reaching out to others through sharing and service to our community. Each year Grace Episcopal Day School participates in numerous service learning projects and this year, we will focus on a new project each month.
G – Gratefully
R – Reaching
A – Across
C – Communities
E – Everywhere
October Outreach
We will be collecting items for the Blessing Box located in front of Grace Church.
What is a Blessing Box?
While our community provides wonderful services for those in need, such as food pantries and soup kitchens, there are still people out there who find themselves hungry and in need at times those services are unavailable. This is where the Blessing Box comes into play. It is stocked with items continuously, so that people in need can stop by and pick up what they need at any time of day or night. By helping stock the Blessing Box, we will share the blessing of access to food that we enjoy with others who have not had the same.
Continuing through the month of October, we will collect food items to help stock the Blessing Box. Please bring your items to Mrs. Peterson in the Christian Formation room.
Items Needed:
Ready-to-eat meal items in pop-top cans, such as soups, stews, ravioli, etc.
Canned meats
Peanut Butter
Individually wrapped packs of crackers