Grace Students Thrive Academically!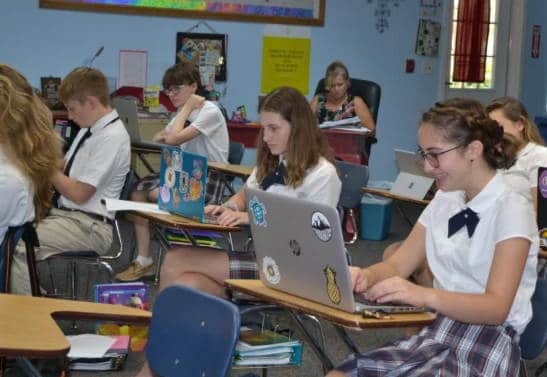 At Grace, we challenge students to thrive in an academically rigorous environment.
Amazing news! 50% of our 3rd-6th graders qualified for Duke TIP based on their 2019 standardized test results! So, what exactly is Duke TIP? Duke TIP is the Duke University Talent Identification Program. It is a nonprofit organization whose mission is to support academically talented students by offering above grade level testing, enrichment courses, year-round learning options, residential summer programs, and online courses. Grace participates in both the 4th-6th Grade Talent Search and the 7th Grade Talent Search. Students who scored in the 95% or better on specific sub-tests of the SAT-10 are eligible to participate in this program. Way to go!
Also, several of our area high schools offer specialized academic programs for high performing students. In order to be eligible for acceptance in either program, students must score in the 85% or better on their 7th grade standardized exams. In the current 8th grade class, 57% of our students are eligible for these programs. We are so proud! Below is a brief description of each program.

The Advanced International Certificate of Education (A.I.C.E.) program is a set of challenging college-level classes for high school students. It was developed by Cambridge Assessment, a non-profit, non-teaching department of the University of Cambridge in England.  
The International Baccalaureate® (IB) offers a continuum of international education. The programs encourage both personal and academic achievement, challenging students to excel in their studies and in their personal development.