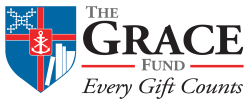 Greetings from the Chair of the Grace Fund
Our new school year is already off to a great start and it is my privilege to chair The Grace Fund this year.
The Grace Fund is conducted annually to financially support the needs of the school that are not covered by tuition. This fund helps bridge the "gap" between tuition revenue and the actual cost of educating each student at Grace Episcopal Day School. Additionally, the Grace Fund helps regulate the cost of tuition, which is necessary for remaining competitive among the top independent preschool, elementary, and middle schools.
Our goal this year is to raise $40,000 with 100% participation from our families, staff, Vestry, and Trustees. This goal is very attainable and fits so appropriately with our theme "Every Gift Counts." If you have never had the opportunity to give before, now is the perfect time. If you have a tradition of giving to Grace, thank you, and we hope you will be able to maintain or increase the amount of your previous contributions.
As parents, grandparents, alumni, parishioners, and friends, I urge you to join me in supporting our school. Give a gift that will help make a difference for Grace Episcopal Day School, and most importantly, for all of our children.
With your help, I look forward to meeting and exceeding our goal.
Stacy Arthur
2016 – 2017 Grace Fund Chair