Grace Episcopal Day School History
Grace Episcopal Day School began as Mother's-Morning Out program in 1950. Over the years the school has grown to be one of the finest in Orange Park. In 1995, a group of parents who had a vision for continuing the quality Christian education at the preschool and kindergarten developed the Elementary school by adding a first grade class. Today the student body at Grace includes PK3s through eighth grade. Grace is accredited by the Florida Council of Independent Schools (FCIS) and is a member of the National Association of Episcopal Schools (NAES).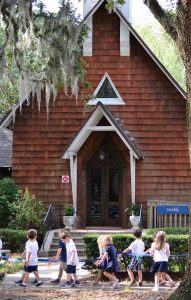 At Grace, we celebrate the richness of life in a Christ-centered community, the seriousness of academic achievement, and the joy of childhood.
Why Attend an Independent School
The reasons cited over and over by families that make a conscious decision to send their children to independent schools includes individual attention, small classes, teacher excellence, strong school to family community communication, a safe and secure campus, and high academic standards. Come see for yourself!